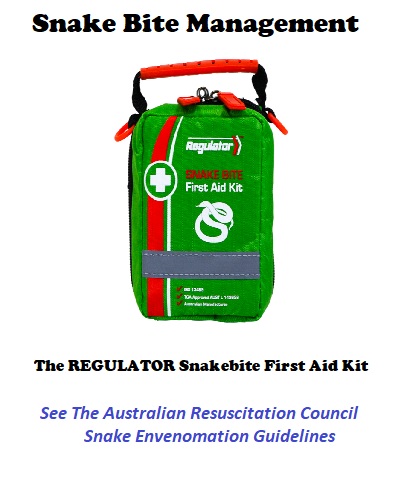 Part No AFAKSB
The REGULATOR Snakebite First Aid Kit
$25.00
SNAKE ENVENOMATION MANAGEMENT FIRST AID KIT
CLICK HERE for Resuscitation Guidelines
A bite injury inflicted by venomous reptiles requires rapid emergency intervention.
The Australian Resuscitation Council has reported that poor outcomes in the management of snakebite injury may be related to inadequate Pressure Immobilisation Technique (ARC, 9.4.8, 2011)
The new REGULATOR Snakebite First Aid Kit contains the essential items required for rapid intervention following a possible envenomation incident, including the new AEROFORM Snake Bite Bandage with Indicator. When correct pressure is applied during bandaging, the rectangles imprinted on the bandage "reform" into squares, telling the rescuer that correct pressure has been applied.
Conforms to Australian Standard AS267-1983.
Contents
1 x AEROBAND Triangular Bandage
1 x AEROPAD Low Adherent Dressing
2 x 4.5m AEROFORM Snake Bite Bandages
1 x First Aid Leaflet
1 x Soft Pack Pouch with Belt Loop